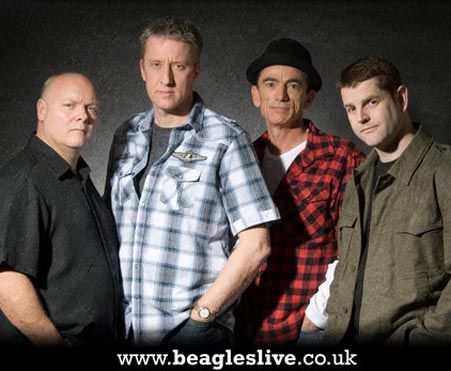 Beagles Info
Beagles play all genres of music for any occasion. From Snow Patrol, Beatles, Bad Company on the lighter side to the Chilli Peppers, Foo Fighters, Nirvana etc. on the heavier side - and many many more.
Beagles Setlist includes
Long Train Running - The Doobie Brothers
Times Like These – Foo Fighters
Blockbuster - Sweet
Can't Get Enough - Bad Company
You're All I have – Snow Patrol
Valerie – Winehouse / Zutons
When September Ends – Green Day
Buck Rogers - Feeder
Dakota - Stereophonics
Creep – Radio Head
Always the Last to Know - del Amitri
Get Lucky - Daft Punk
Walking By Myself - Gary Moore
Rebel Yell - Billy Idol
20th Century Boy - T Rex
Moves Like Jagger - Maroon 5
Sweet Home Alabama – Lynyrd Skynyrd
Who's Crying Now - Journey
Reeling in the Years - Steely Dan
Feel Like Makin' Love - Bad Company
Pump it Up – Elvis Costello
Tie Your Mother Down - Queen
Purple Haze – Jimi Hendrix
Black Night – Deep Purple
Sex on Fire – Kings Of Leon
Chelsea Dagger - Fratellis
Are You Gonna Go My Way – Lenny Kravitz
Vertigo – U2
Use Somebody – Kings Of Leon
Chasing Cars – Snow Patrol
Message in a Bottle – The Police
It's My Life – Bon Jovi
Zombie – The Cranberries
Song 2 - Blur
Don't Look Back In Anger - Oasis
She Sells Sanctuary – The Cult
I Saw Her Standing There – The Beatles
All The Small Things – Blink 182
We Will Rock You - Queen
Rock Mountain Way – Joe Walsh
Keep on Rockin' in the Free World - Neil Young
Summer of 69 – Bryan Adams
Get Over It – The Eagles
Place Your Hands – Reef
Smells Like Teen Spirit – Nirvana
Play That Funky Music - Wild Cherry
Mr. Brightside - Killers
Hammer To Fall - Queen
Danni California – Chilli Peppers

To The Beagles Gig List

To Beagles Photo's

To the Beagles website.


---