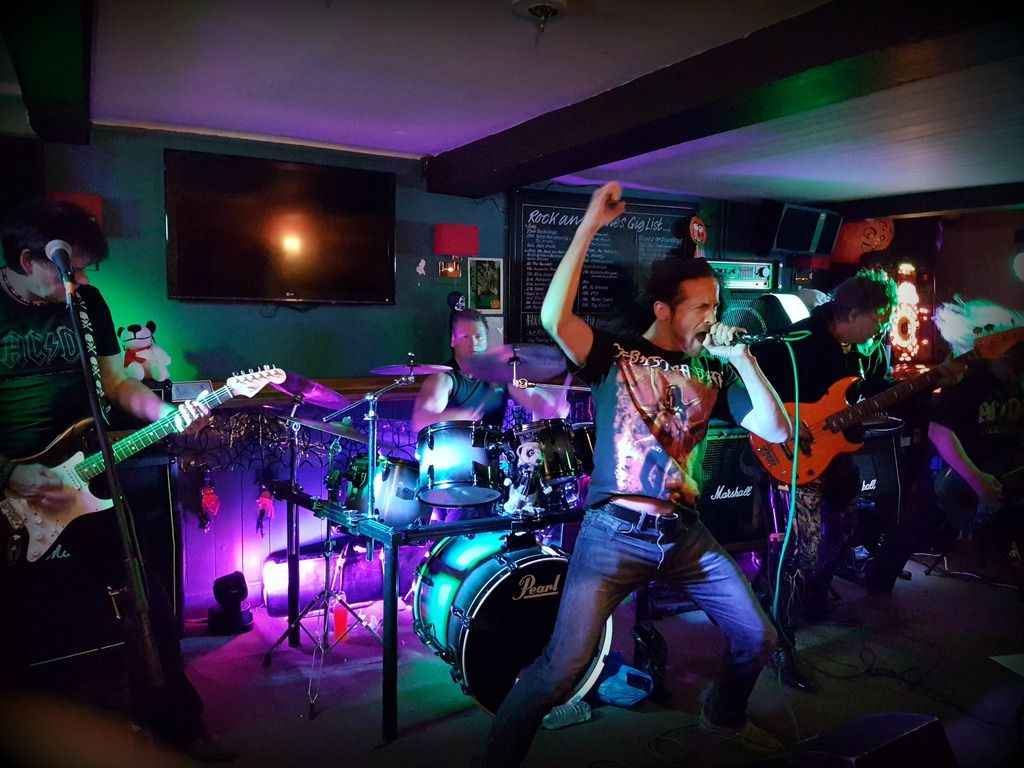 Gridlock Info
*** PLEASE SEE OUR MAIN WEBSITE FOR FULL GIG LISTINGS AND MORE INFORMATION:

www.lemonrock.com/gridlock

We are a 5 piece classic hard rock covers band covering material from the
60's to the present (Deep Purple, ZZ Top, Thin Lizzy, Golden Earring,
Whitesnake, AC/DC, Rolling Stones, Led Zeppelin, Jimi Hendrix, Metallica,
Alice Cooper, Guns 'n' Roses, Ozzy, ....).

For full gig listings and further details, please see our main website
www.lemonrock.com/gridlock

We have more video clips at: www.youtube.com/user/GridlockCovers

Gridlock Setlist includes
CURRENT SONG LIST:
Ace of Spades --- Motörhead
Alive --- Pearl Jam
All My Life --- Foo Fighters
All Right Now --- Free
American Woman --- Lenny Kravitz/The Guess Who
Back in Black --- AC/DC
Black Night --- Deep Purple
Born To Be Wild --- Steppenwolf
Can't Get Enough --- Bad Company
Cat Scratch Fever --- Ted Nugent
Crazy Train --- Ozzy Osbourne
Don't Believe A Word --- Thin Lizzy
Enter Sandman --- Metallica
Everything About You --- Ugly Kid Joe
Fool For Your Lovin' --- Whitesnake
For Whom The Bell Tolls --- Metallica
Gimme All Your Lovin' --- ZZ Top
Hard To Handle --- Black Crowes
Highway Star --- Deep Purple
Highway To Hell --- AC/DC
Immigrant Song --- Led Zeppelin
Jumpin' Jack Flash --- Rolling Stones
Merry Christmas Everybody --- Slade (played
only at Christmas lol !)
Out in the Fields --- Gary Moore/Phil Lynott
Paranoid --- Black Sabbath
Purple Haze --- Jimi Hendrix
Radar Love --- Golden Earring
Run to the Hills --- Iron Maiden
School's Out --- Alice Cooper
She Sells Sanctuary --- The Cult
Smoke On The Water --- Deep Purple
Stargazer --- Rainbow / Dream Theater
Sweet Child O' Mine --- Guns 'n' Roses
Tie Your Mother Down --- Queen
Tush --- ZZ Top
We Will Rock You --- Queen
Whole Lotta Love --- Led Zeppelin
Whole Lotta Rosie --- AC/DC
Wishing Well --- Free
You Give Love A Bad Name --- Bon Jovi
You Really Got Me --- The Kinks
Gridlock Band Members
We are a 5 piece classic hard rock covers band. Rob
founded the band in the early 2000's and it has
evolved into today's great line-up.
Gridlock Bookings
For Gridlock Bookings Contact
Karen --- 07732 907089, or message Gridlock on FB,
or email gridlockrocks-uk@hotmail.co.uk.

To The Gridlock Gig List

To Gridlock Photo's

Watch Gridlock Video's

To the Gridlock website.


---